You know what I love? Marshmallows. You know what I love even more? Rice Krispie Treats. You know what I love most? Quick, easy, no bake Rice Krispie Treats!
Emma's 4th Birthday is coming up (FOURTH! YIKES!), and her school discourages cupcakes for the class treat. They're messy, I get it, but c'mon! Cake! It's your birthday! So I've decided to send rice krispie treats to her preschool class on her birthday. Lucky for you, I felt like making a batch early! That means you get the recipe and you will now be forced to drool over the pictures. They're entitled "Mom's Rice Krispie Treats" because my mom would always make these for us as kids, so the measurements will be sorta kinda guesstimated. And hey, marshmallows are fat free, right? So they're not TOTALLY bad for you!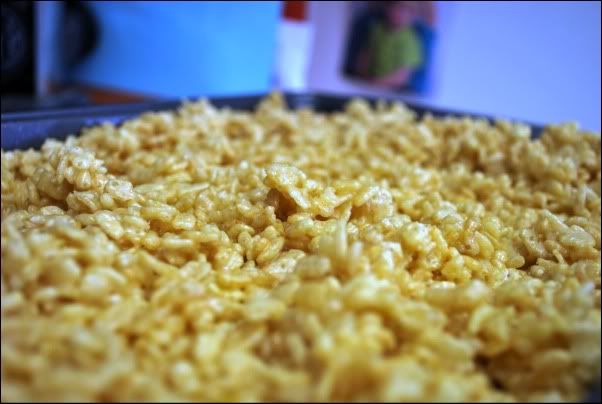 Mom's Rice Krispie Treats
2 bags of mini marshmallows (10.75 oz)
About 12 cups of Rice Krispie cereal, divided
1 ½ cups of margarine, divided
1. Spray a microwave safe bowl with non-stick cooking spray. Make sure it's a big bowl. Pour in one whole bag of marshmallows. Let your kids eat a few.
2. Put about ¾ cup of margarine in the bowl along with the marshmallows.
3. Microwave! I do 45 second increments. So stick 'em in for 45 seconds, take them out and shake the bowl a bit so that the marshmallows settle. Repeat. They're almost there! Repeat again. Now they should be nice and melty and sticky and delicious looking.
4. Now add about 4 cups of the Rice Krispies cereal. Spray a cooking spoon with non-stick cooking spray, and stir it up! Add another 2 cups of cereal. Stir it again! You're going for mostly cereal with just marshmallowy goodness as the glue, not marshmallows with a bit of cereal.
5. Pour the mix into a 9x13 pan. Spray it with non-stick cooking spray first! It should fill about half of the pan.
6. Rinse out your mixing bowl, and repeat steps 1-5 to fill the rest of the pan. Let finished product set for a chunk of time (3 hours or so should do it), and enjoy!
Some fun stuff you can do is add little treats in the mix. M&Ms are always fun, especially when they come out with the seasonal colors! Just pour some into the rice krispie mixture before you transfer it to the pan, and voila! Colorful treats!
Don't forget that I have
some awesome giveaways going on right now
! You'd hate to miss out on those!
Now run along, and melt into marshmallow bliss. You're welcome.